Delta Air Lines Pricing Analysis and Recommendation Report
Essay grade
Satisfactory
Read Review
Essay grade
Satisfactory
Read Review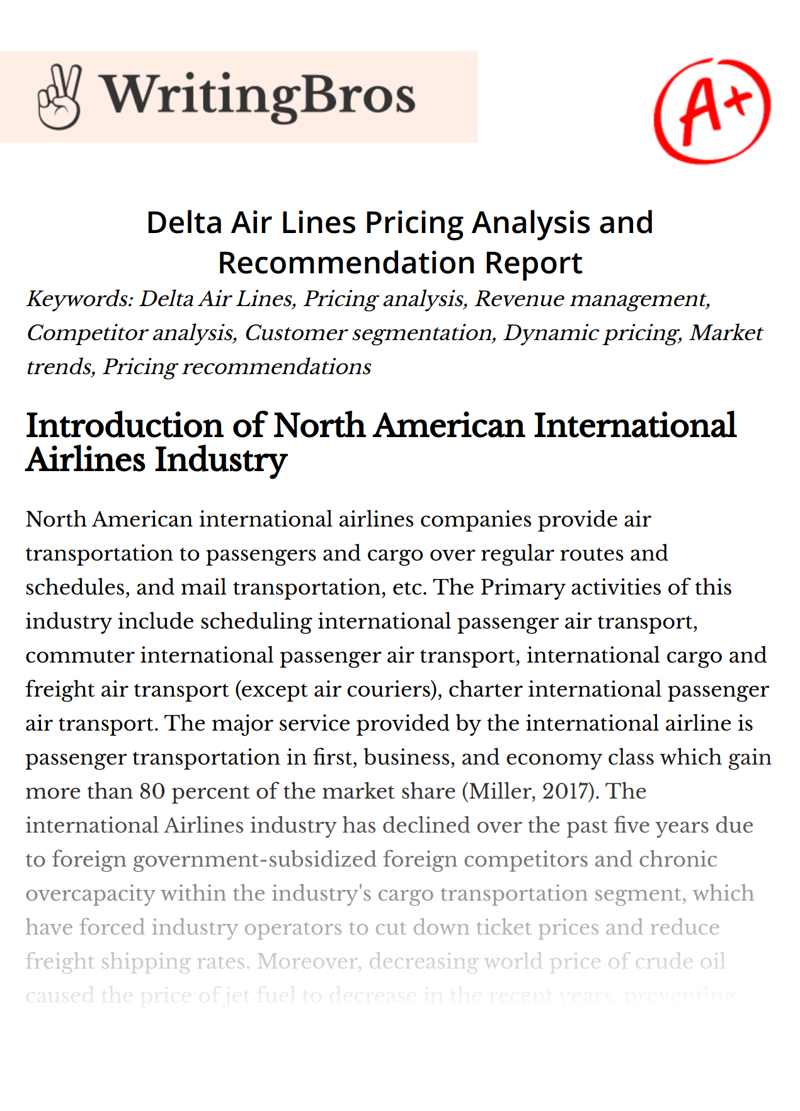 Table of contents
Keywords: Delta Air Lines, Pricing analysis, Revenue management, Competitor analysis, Customer segmentation, Dynamic pricing, Market trends, Pricing recommendations
Introduction of North American International Airlines Industry
North American international airlines companies provide air transportation to passengers and cargo over regular routes and schedules, and mail transportation, etc. The Primary activities of this industry include scheduling international passenger air transport, commuter international passenger air transport, international cargo and freight air transport (except air couriers), charter international passenger air transport. The major service provided by the international airline is passenger transportation in first, business, and economy class which gain more than 80 percent of the market share (Miller, 2017). The international Airlines industry has declined over the past five years due to foreign government-subsidized foreign competitors and chronic overcapacity within the industry's cargo transportation segment, which have forced industry operators to cut down ticket prices and reduce freight shipping rates. Moreover, decreasing world price of crude oil caused the price of jet fuel to decrease in the recent years, preventing airline companies from generating revenue through fuel surcharge fees. However, Industry revenue is expected to recover in coming years since the continued growth in disposable income. The total revenue of the international airlines industry is about $63.7 billion and total annual profit is $6.8 billion. Annual growth will be expected to be 3.3% from 2017 to 2022 (Miller, 2017).
The North American international airline industry has become a very important part for the transportation industry globally. Several well-known American international airlines companies are United Continental Holdings Inc., American Airlines Group Inc., Alaska Air Group, Inc., Virgin America Inc., and Delta Air Lines, Inc. This essay will mainly discuss on the company Delta Air Lines, Inc. and its flight tickets pricing for Passenger Transport service. Details of different prices range according the seating arrangement will be provided in the following parts.
Company Background of Delta Air Lines, Inc. (4ps)
Delta Air Lines Inc. (Delta) is one of the largest and most well-known airlines companies in the world. Delta was founded originally on May 30, 1924 which is 93 years ago. Its headquarters and largest hub locate at Hartsfield–Jackson Atlanta International Airport in Atlanta, Georgia. Delta is one of the four founding members of the SkyTeam airline alliance, and joint ventures with Air France-KLM, Alitalia, Korean Air, Virgin Atlantic, AeroMexico, WestJet, and Virgin Australia. The airline operates over 5,400 flights daily and serves an extensive domestic and international network that includes 319 destinations in 54 countries on six continents until 2016. Delta earned global revenue of $39.6 billion and employed 80,000 full-time equivalent staff (Miller, 2017). Delta Air Lines was recognized as the world's largest airline in terms of scheduled passengers carried which is around 120.6 million, the second-largest in terms of both revenue passenger-kilometers flown which is 277.6 billion and capacity which is 4.4 billion ASM/week in 2013.
Delta provides air transportation scheduling services for passengers and cargo throughout the US and around the world. Until 2018, Delta Air Lines has operated more than 850 aircrafts including Boeing 717, 757, 767, and Airbus A330 fleet. There are five major cabins within the Delta flights as seating arrangement which includes Delta One, First class, Delta Comfort+, Main Cabin, and Basic Economy. One of the significant Delta Air Lines pricing strategy is segmented according to the class of the cabins.
The company is in strong market position and wide global presence, which help to expand its service offerings in new markets and increase its market share. Delta's market share in the airline industry is approximately 18.30%. The slogan for Delta Air Lines is "Keep Climbing" to reveal its mission that to dedicate delivering the very best travel experience for all of their customers and to help customers experiencing new places and starting new journey (Delta Air Line Official Website, 2018).
Delta Air Lines, Inc. SWOT Analysis
Strong market position, great market share, and powerful brand image have led Delta Air Lines to become relatively competitive in the North American Airlines industry. The company has a diversified geographical presence both in domestic and international locations including hubs in Amsterdam, Atlanta, Boston, Detroit, London-Heathrow, Los Angeles, Minneapolis-St. Paul, New York-LaGuardia, New YorkJFK, Paris-Charles de Gaulle, Salt Lake City, Seattle and Tokyo-Narita (Delta Air Lines, 2017).
However, the company is facing the threats due to heavily taxing which is required by Aviation and Transportation Security Act which requires the federalization of certain airport security procedures and security requirements on airports and airlines. The tax is funded by per ticket tax on passengers and a tax on airlines, so sometimes the airline company has to increase the ticket price due to the increase in aviation taxation. On the other hand, intensive competition from the domestic and foreign airlines companies can impact Delta's performance on sales. Some of them may have lower costs than Delta and provide service at low fares to destinations such as JetBlue Airways and Southwest Airlines, while some of the companies were well-funded carriers by their governments in the Gulf region, including Emirates, Etihad Airways and Qatar Airways.
Although the global environment is highly competitive for North American Airlines industry, Delta Air Lines can still gain benefit from the growing global tourism industry due to its strong position and high reputation. The growing number in international tourists will drive the revenue for Delta Air lines to grow. Also, the Global Air Freight Sector and Global MRO Market are potential opportunities to boost Delta's return and enable Delta to record steady increasing market share according to the 2017 Delta Air Lines company SWOT analysis.
Delta Market Segmentation
Market segmentation can be referred to the aggregating of prospective buyers into groups, or segments, that have common needs and respond similarly to a marketing action. Market segmentation enables companies to target different segments of consumers who value of certain products and services differently from one another. The process to conduct market segmentation include targeting objectives for the purpose of deciding which segment to select, segment strategies which is defined as deciding how to adopt one or more segments, and segment marketing which is defined as deciding how to market to multiple segments (Sorger, 2013).
Airlines have a complex and granular segmentation in the form of geography, services, and fares. Delta mainly adopts three marketing segmentations to put its customers into several categories. They are geographic, service-based, and fare-based (behavior-based). Other market segmentation methods are applied for different purposes by Delta as well, such as demographics (traveler age, education, home city/country), behavioral (frequent travelers and non-frequent travelers, business and leisure, individuals and families), and psychographics. Since Delta Air Lines is an American International airline company, it operates the flights within the domestic US territories and in international routes. Therefore, geographic differences can segment Delta's market into domestic and international market. Delta categorized its air transportation services into passenger transportation and cargo transportation. According to the statistics above, Delta operates its majority service for passenger transportation which generates 92.65% of the total revenue. Cargo transportation only generated about 1.89% of the total revenue. Therefore, passenger transportation service plays very important role for gaining profit of the flights, and it is biggest service-based segment for both Delta's domestic and international market.
Furthermore, fare-based which can be considered as behavior-based marketing segmentation is the primary technique for most of the airline companies to target their customers. Cabin selection is voluntary for the customers and it is all depending on the fares which customers are willing to pay. Certain customer segments/groups purchase the lowest flight fares and others pay significantly more and up to the full fare. Delta divides its customer per flight into five different categories which include Basic Economy, Main Cabin, Delta Comfort+, First Class, and Delta One. These various choices on the flight cabins can give customers different choice of the seating in an airplane, different level of services provided, and other diverse features. For example, Main cabin customers can have seat selection and those in basic economy do not have seat selection. People who have purchased Delta One cabin ticket can have the best services among all other segments such as meals, drinks, earliest boarding time, entertainment, skicare products, and accessibility to the Delta Sky Clubs, etc. Other groups of the cabin have less services with lower quality since the cabin move more towards the back of the airplane.
In 2015, Delta introduced its new proposed fare structure, a new version of 'fare families' or 'branded fares' which is a 'families' of bundled ancillary services or features. Bagging fee has considered as ancillary feature in a flight ticket that company charge customers extra fee for checking baggage. With this segmentation, customers can select their preferred ancillary feature and a particular seat as a bundle, so that the bundle fares can be less than the features which they purchase them separately and this method provides convenience. Customers can have flexibility to self-select the bundles that are most valuable to them.
Competitive Summary
In the aspect of customer satisfaction, Delta has rated as number-one by corporate travel buyers. Delta's services for customers are considered excellent among all other North American Airline companies. For flexibility of negotiation, distribution channels, complaint handling, quality of communication and customer service, value of relationship, network partnership, and overall price value, Delta has earned high overall scores in all these aspects and it has very high competitive advantages. This BTN survey reflects that Delta Air Lines care about the quality of their services for the passengers and the company tracks their performance and take corrective steps when required for the future.
Pricing Scenarios
Delta Air Lines, the pricing strategies are complicated since the company is using various marketing segmentation methods and there are plenty of segments within this large corporation in the world. Two major pricing tools which this airline company using are considered Tiered and Demand-based pricing techniques. They have been frequently using to determine the different fares of the flight tickets in order to boost profit.
Tiered Pricing is defined as setting prices at different price points for different levels of features from good level to best level of the products (Sorger, 2013). In March 1st, 2015, Delta Air Lines introduced its new five-tiered seating plan which is five different prices in different cabins of an airplane, including Basic Economy, Main Cabin, Delta Comfort+, First Class, and Delta One. As a result of this modification, Delta customers have chances to choose from a broader set of these options (Zacks Equity Research, 2014). If the customer purchases the domestic flight from Seattle to New York, the price can reach up to $4200 for a round trip. And the Delta Comfort+ costs around $600 per ticket, and First-class price is around $1700. Furthermore, Main Cabin and Basic Economy Class only costs $390 or lower than $300 per ticket (Delta Official Site, 2018). Since customers pay much more for the better class such as Delta Comfort+ and the best class as First class and Delta One, they will be able to get the full benefit than those who purchase Main Cabin and Basic Economy tickets. Besides the quality of the services during the flight, the customer who purchase the tickets in higher price can have priority on boarding and more space for seating. Especially Delta One travelers can except for full flat-bed seats.
Demand-based pricing is referred to set prices to maximize profit, based on consumer demand (Sorger, 2013). Airline companies use this pricing technique to adjusts prices over time to maximize profitability. For example, customers are likely to travel in Spring and Summer seasons, the flight fares would be higher than those during Fall and Winter seasons, because the demand for flight tickets are significantly higher in warmer seasons. Besides the differences in ticket prices due to travel seasons, days in a week can cause the diverse prices on air flight fares. Friday is considered the most expensive day of the week to buy a plane ticket, according to new research, with flights on average 13% higher than if booked on a Sunday (Morris, 2015). Delta adopted this pricing strategy due to the high number in booking flight tickets for Friday and passengers tend to travel during the weekends and return for work on Monday.
Moreover, research has suggested that imposing a Saturday night restriction for low price tickets is a key way to differentiate travelers on their intended purpose of the trip, as business travelers have strong tendency to return home for the weekend. Saturday night stay-over restriction is often used as a way to discriminate between the business and leisure travelers (Sin, 2009). In 2013, Airlines worldwide including Delta customized airfare pricing and itinerary results based on who is searching. These personalized fares could be affected by some personal information about where you live, how often you fly, the kind of trip you are going, etc. Therefore, customers need to input their personal login information on Expedia and it would allow the airline companies to offer personalized deals, such as a special package for frequent flyers including discounted airfare, seat upgrades, and increase competition on the distribution side of air travel (Sood, 2013). This illustrates that Delta emphasizes and values more on its clients who take flights for business reasons instead of leisure. This pricing techniques make people worry that this measure will result in privacy violations and discrimination which is allowing airlines to charge business travelers more than other passengers, potentially without their knowledge. When two people are booking the same flight, they will have chance to get charges differently without knowing the airline company's standard of pricing. Due to the convenience of internet, Delta applies technology and uses the Internet to directly reach their clients and find out their purposes of travelling.
Recommendation
Even though Delta Air Lines has become one of the greatest airline companies in the North American international airline industry with high customer satisfaction, it still need some improvement on its pricing strategies. Therefore, they will be able to create shared value with the customers and become more competitive in the airline market.
In the demand-based pricing strategy, Delta should reveal its standards and details more frequently to tell why they charge customers differently in different time periods in a year. A list of flight fares comparison should be shown on their online website and offline resources, so that customers can compare the prices and their preferred service in order to purchase the ticket which is the most valuable to them.
Also, the fares standards should be consistent on this list of flight fares comparison so that customer can have the emotion that they have been treated fairly by the company. Delta's marketing department needs to make sure that their pricing meets customers' expectations about what is fair and that the pricing process should be clear, because pricing fairness is important for the company to understand and it can influence consumers' perceptions of the brand image. When prices seem fair, consumers often buy more and are more willing to pay a premium. Conversely, when prices seem unfair, consumers may punish companies (Bertini & Gourville, 2012). On the other hand, Delta should pay attention to privacy violations and price discrimination problems by giving different deals for business people and for other passengers. The process on selecting the candidates for certain prices or giving a particular bundle deals should be clear for customers to understand.
Delta has been facing on criticism about its slippery pricing for long time. It does not only happen with Delta but also with other North American airline companies as well. Slippery pricing means the price advertised on the website changed in the middle of the transaction. In Kusnetzky's article, he told a story when "slippery pricing" happened to him while he was trying to book a flight with Delta site, "Before I was allowed to check out, I was informed that the price had increased by roughly a third. This happened three different times when I tried to select routing through three different hub cities with three different departure times." (Kusnetzky, 2013). Slippery pricing makes Delta as cheating on the customers with charging them extra money without giving any prior notices. It is necessary for Delta to pay attention to the slippery pricing issues and avoid it in the future. Changing the prices can make the customers annoyed because they assume the company can have told them earlier about the extra fee before they place the orders. The company should consider increase the transparency on these "slippery prices" and notify the customers at the beginning.
Conclusion
In conclusion, Delta is recognized as one of the best North American airline companies with strong market position and wide global presence. It gains numbers of market share both in the US and in the world. Delta uses various market segmentations including geographic, service-based, and fare-based (behavior-based) to define its target markets. Therefore, tiered pricing strategy and demand pricing strategy are applied on these different segment groups. In the future, Delta Air Lines needs to pay more attention on the fairness and transparency in its pricing strategies, because these two important factors can reveal whether a company can create value for its customers and increase the customers' satisfaction. Since the Delta is in the intensive competitive environment, it is necessary to set the flight ticket prices with more diverse strategies which can provides more flexible options for the passengers. Therefore, the company will be able to maintain the current competitive position and become sustainable in the long run.
References
Bacon, Tom. (May 18th, 2015). Delta Airlines: glaring omission or smarter market targeting? Eye for Travel. Retrieved from https://www.eyefortravel.com/revenue-and-data-management/delta-airlines-glaring-omission-or-smarter-market-targeting
Bacon, Tom. (October 31st, 2016). How to Use Segmentation to Personalize Airline Offers. Accelya Holding World S.L. Retrieved from https://w3.accelya.com/blog/how-to-use-segmentation-to-personalize-airline-offers
Bertini, M., & Gourville, J. T. (2012). Pricing to Create Shared Value. Harvard Business Review, 90(6), 96-104.
Cederholm, Teresa. (June 17, 2014). Why Delta Air Lines scores highly on customer satisfaction surveys. Market Realist. Retrieved from https://marketrealist.com/2014/06/delta-airlines-scores-highly-customer-satisfaction-surveys
CSIMarket. (September 30th, 2015). DELTA AIR LINES INC SEGMENTS. CSIMarket. Retrieved from https://csimarket.com/stocks/segments.php?code=DAL
Delta
Air Line Official Website. (2018). Trademarks and Slogans. Delta Air Lines, Inc. Retrieved from https://www.delta.com/content/www/en_US/about-delta/corporate-information/trademarks-slogans.html
Delta Air Lines, Inc. SWOT Analysis. (2017). Delta Air Lines, Inc. SWOT Analysis, 1-8.
Delta Air Lines. Delta Air Lines 2014 Corporate Responsibility Report. Delta Air Lines, Inc. Retrieved from https://www.delta.com/content/dam/delta-www/about-delta/corporate-responsibility/2014_DeltaCRR_FINAL_WEB.pdf
Delta Official Site. (2018). Book A Trip. Delta Air Lines, Inc. Retrieved from https://www.delta.com/?Log=1&mkcpgn=SEzzzGGseaCSsecBD&clickid=6be62345-306d-4be7-b87d-0358f6374159&tracking_id=284x4194485&s_kwcid=TC%7C8489%7C%2Bdelta%20%2Bprices%7C%7CS%7Cb%7C144882793819
Kusnetzky, Dan. (May 22, 2013). Slippery pricing - Delta isn't the only one. ZDNet. Retrieved from http://www.zdnet.com/article/slippery-pricing-delta-isnt-the-only-one/
Miller, Dylan. (November,2017). International Airlines in the US. IBISWorld Industry Report. Retrieved from http://clients1.ibisworld.com.proxy.cityu.edu/reports/us/industry/default.aspx?entid=1124
Morris, Hugh. (December 11th, 2015). Never book flights on Fridays - and eight other tips for getting cheap air fares. The Telegraph. Retrieved from http://www.telegraph.co.uk/travel/news/Never-book-flights-on-Fridays-and-eight-other-tips-for-getting-cheap-air-fares/
Neugarten, Jesse. (January 19th, 2018). Who Are Delta Airlines' Main Competitors? (DAL). Investopedia. Retrieved from https://www.investopedia.com/articles/markets/093015/who-are-delta-airlines-main-competitors.asp
Sin, RG; Chellappa, RK; Siddarth, S. (2009). Strategic implementation of 'everyday low price' in electronic markets: a study of airline pricing on the internet. The HKU Scholars Hub. Retrieved from http://www.bus.emory.edu/ram/Papers/EDLP_Sin_Chellappa_Siddarth.pdf
Sood, Suemedha. (April 5th, 2013). Long gone are the days when government regulation forced flight prices to be based on flight lengths. Today, the final fare is much more dependent on the person buying. BBC. Retrieved from http://www.bbc.com/travel/story/20130405-how-airline-pricing-works
Sorger, S. (2013). Marketing analytics: Strategic models and metrics. CreateSpace Independent Publishing Platform. (ISBN: 9781481900300)
Thomaselli, R. (2005). Delta sets the stage for a marketing war. Advertising Age, 76(2), 3-3,36. Retrieved from http://proxy.cityu.edu/login?url=https://search-proquest-com.proxy.cityu.edu/docview/208373558?accountid=1230
Yarbrough B., Sumers B. (June 30th, 2013). Airlines reveal ticket pricing strategies. The Mercury News. Retrieved from https://www.mercurynews.com/2013/06/30/airlines-reveal-ticket-pricing-strategies/
Zacks Equity Research. (December 12, 2014). Delta Air Lines Plans 5-Tier Pricing System to Boost Revenues. Zacks Equity Research. Retrieved from https://www.zacks.com/stock/news/157303/delta-air-lines-plans-5tier-pricing-system-to-boost-revenues
This essay is graded:
Satisfactory
The essay provides a comprehensive overview of the North American international airline industry and focuses on Delta Air Lines, Inc. as a case study. The introduction provides a clear description of the industry and its major players, and the background information on Delta Air Lines is well-presented. The SWOT analysis of Delta Air Lines is informative and highlights the company's strengths and weaknesses, as well as potential opportunities and threats. The discussion on market segmentation is also well-explained, with a focus on geographic, service-based, and fare-based segmentation.
The essay lacks a clear structure and organization, making it difficult to follow at times. Some sentences and paragraphs are repetitive, and there are instances of awkward phrasing and grammatical errors. The essay would benefit from a more concise and focused writing style. Overall, the essay provides a good amount of information on the topic, but it could be improved in terms of clarity and organization.
Cite this Essay
To export a reference to this article please select a referencing style below
APA

MLA

Harvard

Vancouver
Delta Air Lines Pricing Analysis and Recommendation Report. (2020, December 24). WritingBros. Retrieved November 29, 2023, from https://writingbros.com/essay-examples/delta-air-lines-pricing-analysis-and-recommendation-report/
"Delta Air Lines Pricing Analysis and Recommendation Report." WritingBros, 24 Dec. 2020, writingbros.com/essay-examples/delta-air-lines-pricing-analysis-and-recommendation-report/
Delta Air Lines Pricing Analysis and Recommendation Report. [online]. Available at: <https://writingbros.com/essay-examples/delta-air-lines-pricing-analysis-and-recommendation-report/> [Accessed 29 Nov. 2023].
Delta Air Lines Pricing Analysis and Recommendation Report [Internet]. WritingBros. 2020 Dec 24 [cited 2023 Nov 29]. Available from: https://writingbros.com/essay-examples/delta-air-lines-pricing-analysis-and-recommendation-report/